Angel Cut with Layers: The Codeword Created by Leda Fazal that Means So Much More Than a Haircut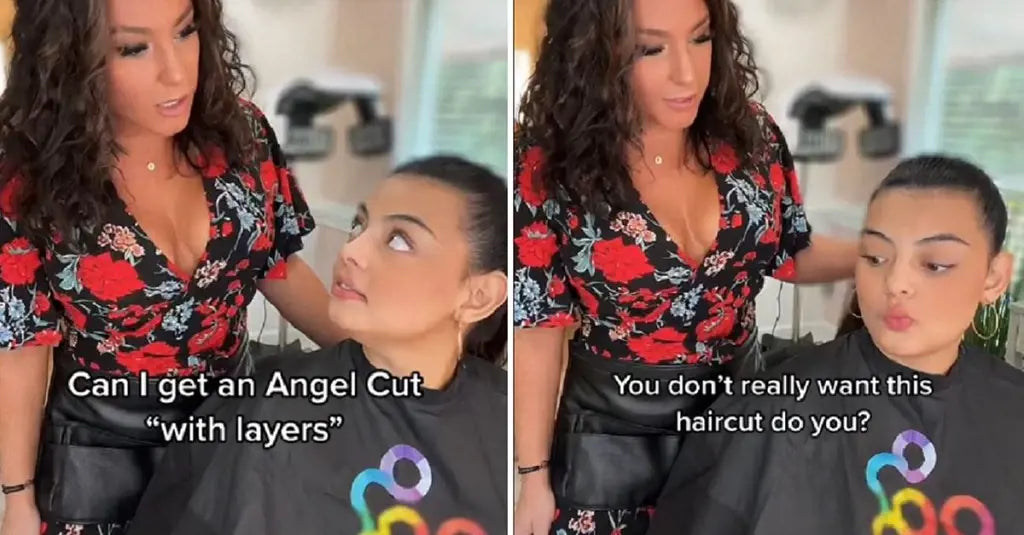 "Angel cut with layers, please"
The code angel cut with layers was developed by Tone Hair Salon owner, and Master Hairstylist, Leda Fazal. Angel cut with layers signifies that a woman is seeking assistance for domestic abuse or is in an abusive relationship whenever she visits her hairdresser and requests that her hair be cut that way.
Each woman should be free to live her life and determine her own hairstyle. Nobody should control how you wear your hair period.
"As a teenager I received very short bangs as a punishment from my father. He kept telling Hairstylist to take it shorter and shorter. It was awkward, and probably life altering for the hairstylist as well. I wish there would've been a codeword for me." 
When someone says they'd like an "Angel Cut" that lets the hairstylist know that you are not there willingly and we should call the police.
An "Angel Cut with layers" let us know that a partner or parent etc is making you get this haircut w/o your consent#angelcut #ledafazal pic.twitter.com/bDF8kVDlXc

— leda fazal (@ToneHairSalon) September 18, 2022
If you have a client that signals they are in trouble by requesting an angel cut with layers, it's normal to not know how to handle it. Fazal suggests that hairstylists should consider calling the police. "When someone says they'd like an 'angel cut' that lets the hairstylist know that you are not there willingly and we should call the police," she shared in a comment. You can also offer help via the National Domestic Violence Hotline that's available 24/7 via phone call or a live chat. They offer confidential support, and their website allows you to search for local resources in your area for assistance close by as well.
As beauty professionals, our clients look to be serviced in a safe space. It's so important to get support and resources for yourself and for your clients in these situations. Creating and implementing a safety plan for dealing with abusive situations is important, not only as a business owner but also as a human being. So let's spread the word and do what we can for those in our community that needs us.
"I've been doing hair 21 years, and there's been some crazy situations and I wish there was some sort of code word that y'all could tell us," she shares. "But now I'm thinking, okay, 'angel cut, angel shot, angel cut,' that lets us know that you need help some way. And I hope it spreads!"
We ask that guests use the code "Angel Cut with Layers" and Tone Hair Salon will stop the services immediately. Nobody should be forced into a hairstyle they don't want. Remember to use the code words "Angel Cut" only if police need to be called and you are in a dangerous situation.
Leda has been spreading the word about how to use "Angel Cut" and "Angel Cut with Layers" and it's important that the codes are not misconstrued.
Leda came up with "Angel Cut" after hearing about the "Angel Shot" from @Benjispears while she was sitting on break at Tone and decided to add onto it, creating "Angel Cut with Layers". Watch the video below for her story of how Angel Cut with Layers was born:


BIG article coming out soon with BehindTheChair.com so I hope to be the change in the industry that we need. To be honest, it is not right for hairstylists to even be put in theses situations and forced to carry through these punishments. Instead we should be their Hair Angels and save them
Please share this however you can to promote awareness.
Check out Leda's Angel Cut playlist for a full understanding of how the term was originated, and what it means personally to Leda:
https://www.tiktok.com/t/ZTRgF6sv8/
More information about the Angel Cut with Layers trend can be found on TikTok and YouTube. Both channels are regularly updated with new content created by Leda Fazal. 
More articles on the Angel Cut with Layers trend:
---