HANDS-ON INSTRUCTION / WORKSHOPS
This is your opportunity to learn the complete Swan Method for Hair Extensions in a personal one-on-one setting. These comprehensive workshops will take place in-studio at Tone Hair Salon in Raleigh, NC. Let Leda Fazal take you through her complete course and help you master the BEST WAY for seamless installation with minimal exposed threading.
Max 4 trainees allowed per session. Workshops are scheduled for Sundays or Mondays from 10am - 4pm weekly. Lunch and all in-class supplies are included.
In addition to your class ticket, you will receive unlimited online access to over 4 hours of pre-recorded training videos. Upon completion, each trainee will receive official certification in Leda Fazal's patented The Swan Method™ plus inclusion in our Stylist Locator App.
IT'S YOUR CHOICE!
This complete package sells for $2999. Just select one of the available dates and add to your checkout. OR you can purchase just our online video training series separately for $1199.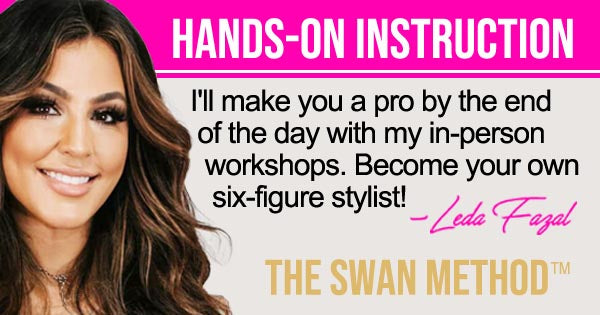 Workshop attendees also get unlimited access to the Step-By-Step video series PLUS the Live Stream Demonstration PLUS the just-released "Snatched Ends" video which shows an additional technique for implementing this method. That's over 3 hours of in depth video instruction to go along with all the rest of the extra bonuses.
✓
Complete Step-By-Step Course
✓
3 hr. Live Stream Demonstration
✓
"Snatched Ends" Bonus Method
✓
Certificate of Completion
✓
Listing in our Stylist Locator App
✓
Personal one-on-one Q&A time with Leda
I absolutely love it and I suggest you take the class.. will definitely change the way you think of hair extensions.

Natalie from Raleigh
"This is the very first time I have ever seen a method that I thought I could go all in on."

Tara from Washington
"I created this method because I have seen so many other methods that are just so expensive to use for my salon clients.

MY METHOD IS EASY, FAST, AND DONE IN ONE STEP!

A lot of the other extension methods are done in two steps. And they are messy and horrible on the hair. And maybe the best thing is that my students can master this method quickly and begin making money with it in their salon right away. There is no other method available on the market like this." -- LEDA
Not ready to make the investment in our on-site workshops? You can still get unlimited access to our very best training videos plus plenty of extras to boost your business. Learn at your own pace!

Just $1199!

.